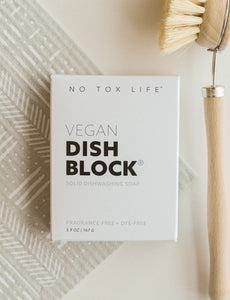 No Tox Life's dishwashing soap block is a cleaning powerhouse with a rich, sudsy lather. Cuts stubborn grime and grease on dishes, pots and pans. With added aloe vera to be gentle on your hands. Completely unscented and fragrance-free.
You can even use it for cleaning-duty all over your home. Take stains out of laundry, take labels off of jars, spot clean your carpet, use it to wipe down counters... it's a truly multipurpose product. 
Ingredients: 
Sodium Cocoyl Isethionate (plant derived)
Decyl Glucoside (plant derived)
Sodium Cocoate (plant derived)
Quillaja Saponaria (from the South American soap bark tree - organic)
Glycerin (plant derived)
Aloe Vera Leaf (organic)
Purified Water
Sodium Carbonate (mineral derived)
Vegan. Phosphate-free. Sulfate-free. Paraben-free. Fragrance-free. Cruelty-free.
Septic safe, greywater safe, biodegradable.
Made without palm oil.