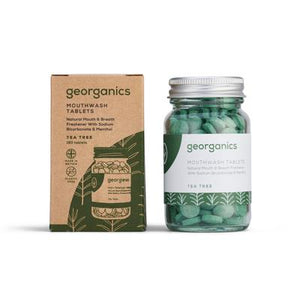 These mouthwash tablets are made from entirely natural and non-toxic ingredients. The Fluoride, Glycerin and SLS free formula helps to restore a healthy pH balance to your mouth, maintain good oral health and freshen your breath. Flavored with organic Tea Tree oil, these eco-friendly tablets, that you add to water, are ideal for everyday use and travel.
Specifics:
Free from 

Fluoride, SLS & Glycerin
Mouth freshener with organic Tea Tree oil
Certified Cruelty-free & Vegan
In refillable glass jars, aluminium lid or compostable paper refill box
180 tablets: 3 months / 1 person / twice a day
Directions:
Dissolve 1 tablet in 20ml of water
Gargle for at least 30 seconds
Spit out without rinsing
Ingredients: Sodium Bicarbonate, Tartaric Acid, Citric Acid, Melaleuca Alternifolia Leaf Oil*, Sodium Benzoate, Colorings*, Menthol, Thymol, Limonene*, *Organic, Natural.