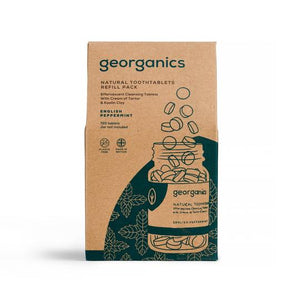 A clean and refreshing way to brush your teeth, these naturally foaming toothpaste tablets with organic Peppermint oil are free from synthetic ingredients like Sodium Fluoride, SLS and Glycerin. Peppermint oil gives these tablets a powerful minty flavor.
Specifics:
Free from Fluoride, SLS & Glycerin
Naturally effervescent with Cream of Tartar
PETA Cruelty-free & Vegan
In compostable box supply:  720 tablets: 1 year / 1 person / twice a day
Directions:
Chew 1 tablet in your mouth and let it dissolve
Brush as usual for 2 minutes
Spit out and rinse well
Store in a dry place for up to 12 months from opening
Ingredients: Sodium Bicarbonate, Tartaric Acid, Citric Acid, Calcium Carbonate, Kaolin, Adosonia Gregoril, Mentha Piperita Oil*, Sodium Benzoate, Limonene*. *Organic, Natural.