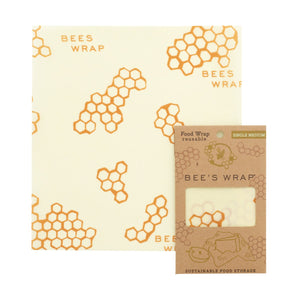 Includes:
1 Medium 10" x 11" (25 x 27.5 cm) in honeycomb print – wrap cheese, carrots, herbs, or cover a bowl.
STORE FOOD NATURALLY. Save half a melon, cheese, bread, fresh herbs, fruits and vegetables. Pack a sandwich or snack, or cover a bowl.
Use the warmth of your hands to soften the wrap and create a seal. Bee's Wrap will stick to itself and other surfaces to keep your food fresher longer.
Naturally antibacterial.
Wash in COOL water with mild dish soap. Let air dry, then fold and store in a drawer or basket on the counter.
KEEP AWAY FROM HEAT: hot water, dishwashers, microwaves, ovens.
Not recommended for raw meat or fish. 
LASTS ONE YEAR OR LONGER when used several times a week with proper care.
SUSTAINABLE, NATURAL PLASTIC WRAP ALTERNATIVE.
INTENTIONAL DESIGN, SIMPLE SOLUTION. Store cheese, bread, fruit, and veggies. Cover a bowl, pack a sandwich, or fold Bee's Wrap into a pouch for snacks on your next adventure.
WASHABLE, REUSABLE, FULLY BIODEGRADABLE. Use the warmth of your hands to wrap Bee's Wrap around a piece of food or over a bowl or dish.
ETHICALLY SOURCED INGREDIENTS. Made from GOTS-certified organic cotton, sustainably harvested beeswax, organic jojoba oil, and tree resin.