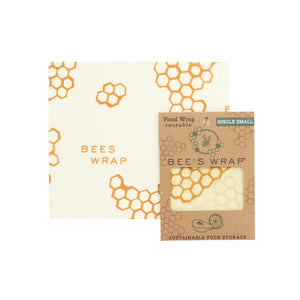 SUSTAINABLE, NATURAL PLASTIC WRAP ALTERNATIVE.
Includes:
1 Small 7" x 8" (17,5 x 20 cm) in honeycomb print – wrap half a lemon, cheese, the end of a cucumber, or cover a small bowl.
STORE FOOD NATURALLY. Save half a lemon, cheese, fruit, and vegetables. Pack a snack, or cover a small bowl.
Use the warmth of your hands to soften the wrap and create a seal. Bee's Wrap will stick to itself and other surfaces to keep your food fresher longer.
Naturally antibacterial.
 Wash in COOL water with a mild dish soap. Let air dry, then fold and store in a drawer or basket on the counter.
KEEP AWAY FROM HEAT: hot water, dishwashers, microwaves, ovens.
Not recommended for raw meat or fish. 
LASTS ONE YEAR OR LONGER when used several times a week with proper care.
INTENTIONAL DESIGN, SIMPLE SOLUTION. Store half a lemon, a small piece of cheese, fruit, and veggies. Cover a mason jar or fold Bee's Wrap into a pouch for snacks on your next adventure.
WASHABLE, REUSABLE, FULLY BIODEGRADABLE. Use the warmth of your hands to wrap Bee's Wrap around a piece of food or over a bowl or dish.
ETHICALLY SOURCED INGREDIENTS. Made from GOTS-certified organic cotton, sustainably harvested beeswax, organic jojoba oil, and tree resin.