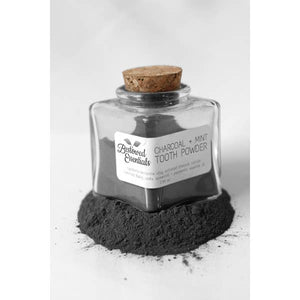 Want pearly white teeth, but without the plastic associated with classic toothpastes? Say hello to a new way to brush with Bestowed Essentials' Natural Charcoal and Mint Tooth Powder. This fluoride free, triclosan free, and BPA free powder provides natural whitening, with added bentonite clay to remove toxins from the teeth and gums. 
Ingredients: bentonite clay, baking soda, calcium carbonate, activated charcoal, spearmint + peppermint essential oil. 
Jar is made of 50% recycled glass with a 100% recycled cork top.
Natural | Vegan | Cruelty-Free | Plastic-Free | Zero Waste