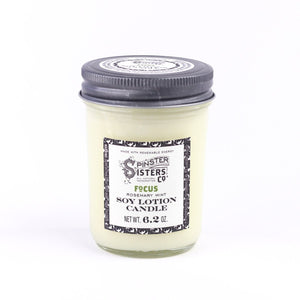 Spinster Sisters' Soy Lotion Candles are excellent for aromatherapy and massage. They are made with super-hydrator jojoba oil as well as fair-trade shea and cocoa butters. Not only do they add an enchanting smell to the room, but they also leave your skin soft and luminous. Rub the hot oil into skin and the Soy Lotion Candles are sure to relieve all your stress.
Renew your concentration with this fresh, herbal candle that might inspire deep thought as you use it for aromatherapy and massage.
Ingredients: Hydrogenated Soybean Oil (Soy Wax), Butyrospermum Parkii (Shea Butter) Fruit, Theobroma Cacao (Cocoa) Seed Butter, Simmondsia Chinensis (Jojoba) Seed Oil, Rosmarinus Officinalis (Rosemary) Leaf Oil, and Mentha Piperita (Peppermint) Oil.