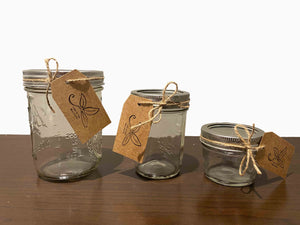 Oneka haircare products are crafted from organic plants carefully chosen for their toning, nourishing, and pH balancing properties, combined with a subtle blend of essential oils.
Angelica & Lavender
With its exclusive plant-based formula, Oneka Angelica & Lavender Conditioner protects your hair until your next hair washing. It also gives your hair a healthy shine, while repairing capillary damage and hair cuticles.
Say goodbye to dry, brittle hair! Oneka Angelica & Lavender Conditioner contains horsetail, a plant we cultivate on our fields for its strengthening properties.
Besides boosting dry and brittle hair repair, lavender essential oil helps alleviate itchy scalp and promotes overall scalp health.
Do we need to mention Lavender's soothing and subtle aroma? It will transport you in our flowering fields!
Goldenseal & Citrus
Maximize the benefits of our Goldenseal & Citrus shampoo with this conditioner bursting with vitality for your hair and energizing aroma for your senses!
Wrap up your freshly washed hair in this nourishing balm and boost its shine and vitality, while infusing it with the delicate aroma of Ylang-Ylang and tangerine.
Cedar & Sage
Surrender your hair and scalp to the revitalizing power of the forest with their Cedar & Sage Conditioner. A balanced blend of botanical extracts from organic plants harvested on our family farm in Quebec, it works with your hair, to bring the shiniest and the healthiest out of it.
The anti-dandruff properties of sage help maintain a hydrated scalp without itchiness. When used on a regular basis, sage is also an efficient and natural ally to promote a healthy scalp.
To complete the exclusive formula of this natural hair care product, we have also included botanical extracts such as calendula, nettle leaf, and horsetail that contribute to fortifying hair roots to give hair more body. 
Ingredients (Cedar & Sage)
Made from plants grown on their organic family-owned farm, their Cedar & Sage Conditioner is a high-quality, natural product crafted in Canada. It comes from responsible agriculture (permaculture) and its biodegradable formula represents a smart, ecological choice. By incorporating this product into your personal care ritual, you take a stand for cleaner & healthier products for yourself as well as cleaner and healthier practices for the environment.
Ingredient list: Purified Water, Organic mixture of Calendula officinalis (Calendula), Arctium lappa (Budock root), Salvia officinalis (Sage), Urtica dioica (Nettle leaf), Rosmarinus officinalis (Rosemary), Taraxacum officinale (Dandelion), Equisetum arvense (Horsetail), Angelica archangelica (Angelica), Hydrastis Canadensis (Canada Goldenseal), Simmondsia Chinensis (Jojoba oil), Cannabis sativa (Hempseed Oil), Tocopheryl Acetate (Vitamin E), Oryza sativa (Rice Protein), Panthenol (Vitamin B5), Cetyl alcohol (plant-based), Polyglyceryl-2 di polyhydroxy stearate, Melaleuca alternifolia (Tea tree) essential oil mixture, Citrus reticulata (Mandarine), Thuja occidentalis (Cedar), Betula alleghaniensis (Yellow birch), Tsuga canadensis (Hemlock), Caprylyl glycol, Ethylhexylglycerine.
All conditioners are pH balanced, color-safe, vegan, gluten-free, and biodegradable. For use on all hair types.