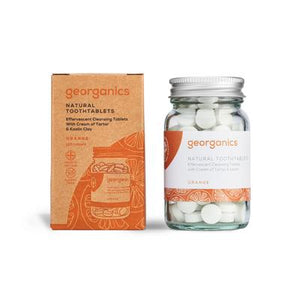 A clean and refreshing way of brushing your teeth, these naturally foaming toothpaste tablets with Cream of Tartar are free from synthetic ingredients like Sodium Fluoride, SLS and Glycerin. Flavored with a sweet and gentle organic Orange oil, ideal for kids.
Specifics:
Free from Fluoride, SLS & Glycerin
Naturally effervescent with organic Orange oil
Certified Cruelty-free & Vegan
In refillable glass jars, aluminium lid or compostable paper refill box
Supply: 120 tablets: 8 weeks / 1 person / twice a day
Directions:
Chew 1 tablet in your mouth and let it dissolve
Brush as usual for 2 minutes
Spit out and rinse well
Store in a dry place for up to 12 months from opening
Ingredients: Sodium Bicarbonate, Tartaric Acid, Citric Acid, Calcium Carbonate, Kaolin, Adosonia Gregoril, Citrus Aurantium Dulcis Peel Oil*, Sodium Benzoate, Limonene*, *Organic, Natural.