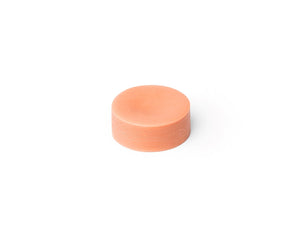 Description
(satsuma)
What happens on #springbreak lives forever on Instagram, but you won't have to worry about those #tbt pics if your hair is on point. Infused with and a vibrant satsuma-inspired scent and bright citrus essential oils, along with nourishing coconut oil and cocoa butter, leaving your tresses incredibly soft and manageable. This duo is sure to wake you up in the morning and leave you feeling refreshed, regardless of what time you got home last night.
Color may vary due to fluctuations in raw ingredients.
Features:
Paraben and phthalate-free
Essential oil and synthetic scenting
Approximately 50-75 washes (may vary)
Equals 2-3 16 oz bottles of liquid
Extension and color-safe
Vegan and cruelty-free
Recommended for: normal to oily
INGREDIENTS
Conditioner: behentrimonium methosulfate (from rapeseed oil), cetearyl (natural emulsifier and conditioner), cocoa butter, cetyl, coconut oil, glycerin, olive oil, jojoba oil, fragrance oil blend (paraben and phthalate-free), wheat germ oil, d-panthenol, vitamin E, essential oils of: orange, grapefruit, lemon, and bergamot, mica, titanium dioxide, and iron oxide

Caution: Manufactured in a facility where nuts, seeds and gluten are present, cross contamination is possible.

DIRECTIONS

Conditioner: Apply bar directly to wet hair, start at roots and smooth bar towards ends. Wait 3-5 minutes then rinse fully. Reapply to ends as a leave-in to detangle, rinse as required.  
Dry and style hair as usual. For external use only, avoid contact with eyes, rinse thoroughly with clean water if contact occurs. 
SIZE

Conditioner bar = 2 inches round + 1 - 1.2 oz (size may vary)
CARE

Simply place bars on a bar dish with drainage for daily in-shower use. Keep bars away from spraying and pooling water, or store outside of shower. For best results when traveling, pat bars dry before stowing in tins. DO NOT store wet bars in travel tins or use tins for in-shower storage.