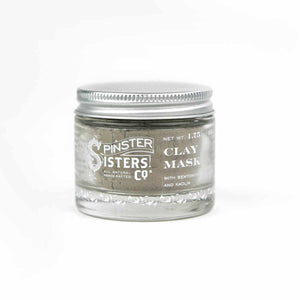 Spinster Sisters' natural Clay Mask will soothe, exfoliate, and cleanse your skin all at the same time. The unique powder is made so that you can mix it with water to your preferred consistency. It's made with bentonite clay, kaolin clay, tea tree oil, and activated charcoal, which blend together with water into a creamy mask that clears skin of excess oil and dirt.
Ingredients: Bentonite Clay, Moroccan Lava (Rhassoul) Clay, Kaolin Clay, Activated Charcoal, Colloidal Oatmeal, and Melaleuca Alternifolia (Tea Tree) Leaf Oil.
Directions: Mix one tablespoon of the Clay Mask with one tablespoon water using non-metallic utensils. Apply to face, and rinse clean after 10-15 minutes before mask dries completely.