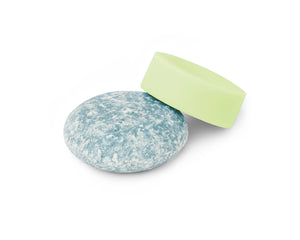 The shampoo bar features vitamin C-rich amla oil to improve scalp, follicle, and overall hair condition down to the ends. The conditioner bar features a unique triple-threat oil blend of; Abyssinian seed, broccoli seed, and Tamanu; controlling frizz, adding shine, and banishing tangles. Inspired by the healing powers of Earth and Water, awakening essential oils of orange bitters and distilled lime meld seamlessly, with the quiet comforts of tonka and vanilla.
Color may vary due to fluctuations in raw ingredients.

Features:
Paraben and phthalate-free
Essential oil and synthetic scenting
Approximately 50-75 washes (may vary)
Equals 2-3 16 oz bottles of liquid
Extension and color-safe
Vegan and cruelty-free

Recommended for: normal to oily 

Caution: Manufactured in a facility where nuts, seeds and gluten are present, cross contamination is possible.

Directions
Shampoo: Apply bar directly to wet hair and massage with hands until desired lather is achieved. Alternatively, lather bar in hands and apply to hair. Rinse thoroughly, repeat as necessary.  
Follow with conditioner bar, if desired, and dry and style hair as usual. For external use only, avoid contact with eyes, rinse thoroughly with clean water if contact occurs.

Conditioner: Apply bar directly to wet hair, start at roots and smooth bar towards ends. Wait 3-5 minutes then rinse fully. Reapply to ends as a leave-in to detangle, rinse as required.