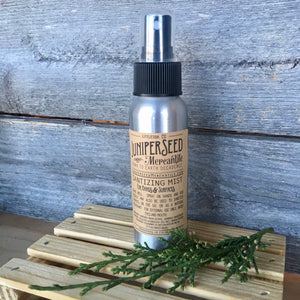 This all natural spray does double duty as a hand sanitizer and a cleaner for shopping cart handles, restaurant highchairs and tables, and any other durable surface. This formula is made with 66% alcohol. Just spray on hands and rub briskly until dry. Or you can spray it on the shopping cart or high chair and wipe with a napkin or tissue. The slimline aluminum spray bottle fits perfectly in purse or pocket.  Please refill, reuse, or recycle the aluminum bottle.  Orders containing this item must ship UPS.
Ingredients: alcohol, essential oils of tea tree, peppermint, lavender and eucalyptus
*Please avoid getting in eyes or mouth, and keep out of the reach of children.