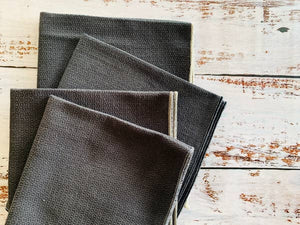 We are constantly trying to improve our products, and finally found a consistent source for a fabric that is perfect for our Unpaper Towels. Back in the day, before paper towels, public institutions would use a certain fabric for cloths to dry their hands, think gas station bathrooms, restaurants, etc. Absorbent and durable. We found the same fabric, and in a charcoal grey. set of 8
these get softer and more absorbent with each wash.
keep in a pretty jar or basket on your counter, so that you grab a reusable cloth over a one time use paper towel. 
11 x 14", made larger than normal, as there will be some slight shrinkage.