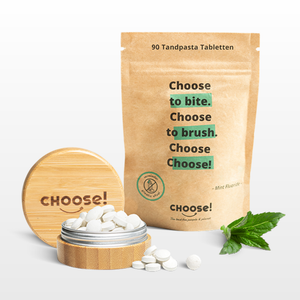 Every year, more than 1.5 billion plastic toothpaste tubes with 5 to 20% toothpaste residue end up in the trash…
Start brushing your teeth in a social and eco-friendly way with a fresh mint-flavored tablet toothpaste. Choose toothpaste tablets have been responsibly developed by dental professionals and use essential natural oils and fluoride to prevent tooth decay.
The ingredients are 100% vegan, free from animal testing, and completely free from microplastics.
How to brush your teeth?
1. Bite down on a toothpaste tab
2. Brush with a wet toothbrush
3. Smile and watch it foam up like toothpaste!
Benefits: - Plastic-Free - 100% Vegan - Dentist Approved - Travel Friendly - Cruelty-Free Included: - 90 Toothpaste Tablets – Save the planet plastic waste from a tube - Bamboo Refill Jar – Maintain the quality of your Tablets with our Bamboo Jar.