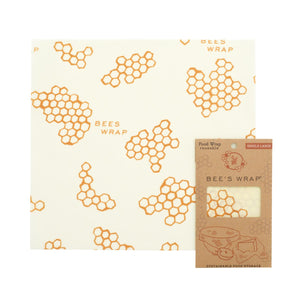 Natural food wraps can make a powerful difference in reducing plastic waste. Whether your food storage needs are for on-the-go snacks, family dinners, or homemade desserts, our organic food wrap selections are made to fit your lifestyle. 
SUSTAINABLE, NATURAL PLASTIC WRAP ALTERNATIVE.
Includes:
1 Large 13" x 14" (33 x 35 cm) in honeycomb print – wrap half a melon, greens, baked goods, or cover a bowl.
INTENTIONAL DESIGN, SIMPLE SOLUTION. Store cheese, bread, fruit, and veggies. Cover a bowl, pack a sandwich, or fold Bee's Wrap into a pouch for snacks on your next adventure.
WASHABLE, REUSABLE, FULLY BIODEGRADABLE. Use the warmth of your hands to wrap Bee's Wrap around a piece of food or over a bowl or dish.
STORE FOOD NATURALLY. Save half a lemon, cheese, bread, fresh herbs, fruits, and vegetables. Pack a sandwich or snack, or cover a bowl.
Use the warmth of your hands to soften the wrap and create a seal. Bee's Wrap will stick to itself and other surfaces to keep your food fresher longer.
Naturally antibacterial.
 ETHICALLY SOURCED INGREDIENTS. Made from GOTS-certified organic cotton, sustainably harvested beeswax, organic jojoba oil, and tree resin.
LASTS ONE YEAR OR LONGER when used several times a week with proper care.