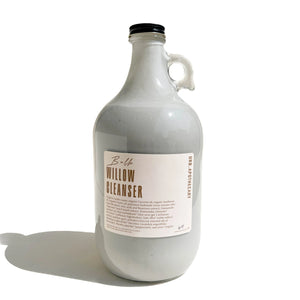 Willow Charcoal Cleanser contains ingredients that soothe as they work, so tight, irritated skin is a thing of the past! Compatible with all skin types, this cleanser is capable of combating acne, healing nicks and cuts and replenishing moisture. It goes on creamy and rich and slowly suds as the organic castile washes away dirt and oils. Fresh, unisex scent.
Organic castile (water, organic Coconut oil, organic Sunflower oil, organic Castor oil, potassium hydroxide (none remains after saponification), citric acid, and Rosemary extract), Hamamelis virginiana* (witch hazel) extract, Simmondsia chinensis* (jojoba) oil, Aloe barbadensis* (aloe vera) gel, Carthamus tinctorius* (safflower, high-linoleic), Salix Alba* (white willow) extract, xanthan gum, activated charcoal, essential oils of Melaleuca alternifolia* (tea tree), Lavandula angustifolia* (lavender), Mentha piperita* (peppermint), and amor *organic ingredient
These are wonderful holiday and Christmas gifts.